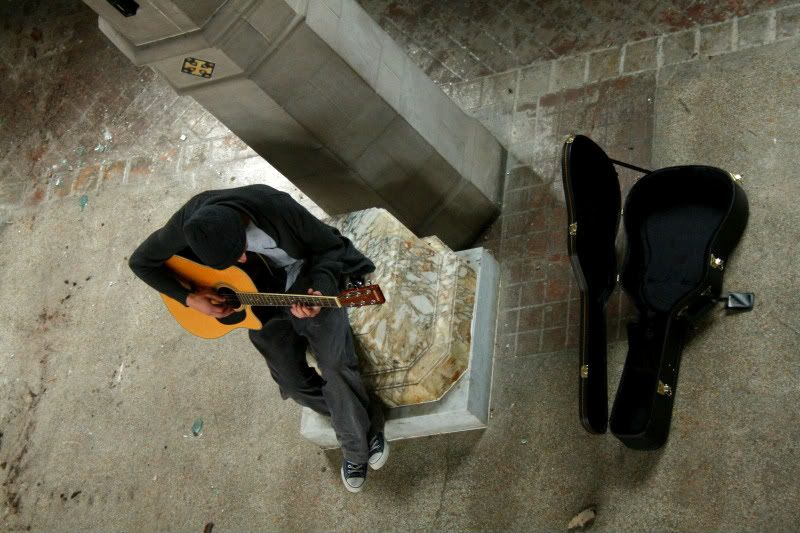 Sunday Morning.
This Sunday morning was spent, somewhat appropriately in church.  The building had long since been abandoned.  And, what remained would be considered destructive ruins to some … to me, it was a place of beauty I was excited to explore.
Long ago as a little curly headed mischevious girl, I loved to enter and explore buildings that I wasn't supposed to.  I never took anything but I spent hours looking through old things and truly loving the time spent there.  There was always an edge of excitement being somewhere I shouldn't be.  And, peeking through old things that were stored away was completely interesting, too.
Years later, I still have some of those same feelings when I'm urban exploring and photographing abandoned buildings.
Back in the church, I heard the most beautiful guitar music.  There was a guy who sat, totally enthralled in his playing and I explored listening to the sounds of his incredible talent.
Climbing up into the balcony area of the church, I sat there for the longest time just hearing the melodies. While looking around the vast, ornate church, I felt closer to God than I had in most other churches I had ever been in on a Sunday morning.
It was a great day.
A really, really great day.
4 Responses to "Sunday Morning."
Hi Amy, Great Pic!! Isn't it great to be like a fly on the wall come upon something wonderful by happenstance? It's like a treasure waiting for you and only you to discover it. Finding that young man playing the guitar in an abandoned church was a gift, just for you. Imagine everything that took place there before you entered the site. This is how I feel about my Sea Glass. A treasure waiting to be found by me! You understand that feeling. If you ever would like to make something special with some of your sea glass so you can wear it as well as sleep with it, let me know. I make timeless pieces with sea glass. Your welcome to visit me at my blog too. Love your site….cool. Fair Winds and Calm Seas, Deborah Leon http://www.mermaidspurseseaglass.com

love it all, the pic and the story!

cool pix! just found your blog and i'm hooked.