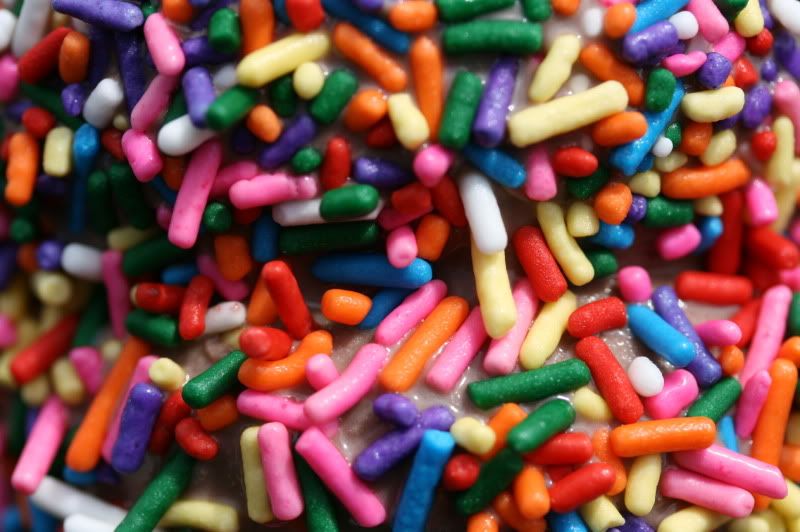 ~ Colorful Bits Of Bliss ~
By Bella
Tags: bliss, blog party, blogging for bliss, colorful, fun, happy, joy, party, photo, photograph, photography, sprinkles
Category: August 2009
Today is ArtsyMama's Blogging For Bliss Blog Party to celebrate Tara Frey's new book
Blogging For Bliss , which has just been released! And, as I promised my friend, Carrie if she peeked in today, I'd have a pressie for her ~ I got her and I both copies!
Okay, back to the blogging for bliss party! Artsymama has asked us to share about how our blogs came to be and what it means to us ~
For those of you who don't know me, you can click on my about page up there and learn a little more or peep out the archive pages, too!
Sit down, relax…
I've got fresh squeezed lemonade on the tray and Lemondrop martini's, too…take your pick and make yourself comfortable ~
I decided to create a blog because, well, I've always wanted to make a positive difference in this world. It's one of the reasons I switched majors in college and decided to work in pediatric and neonatal critical care to help save little lives.
And, I've been doing that for about eight years now.
It became time to make a different kind of a difference in the world.
A colorful, upbeat difference in a setting where many people could enjoy. And, it became time that some of the hundreds of photos I shot everywhere I went were displayed and shared openly.
Thus, She Sleeps With Sea Glass was born six months ago.
Why the name?
I get asked that a lot actually! (I would wonder, too!) Well, I adore the sea and the seashore, the waves and all things coastal. I try to visit often and gratefully soak up all the oceanic sights and sounds each time. A natural collector of found trinkets, I started collecting sea glass. I brought home the colorful gems, smoothed by years of crashing around in the salty waters and against rocky edges.
One night, far away from the seaside, I longed for it. I wandered over to the seaglass and held a handful, closing my eyes. Ahhhh, it was as if I were almost there ~ feet in the swirling surf, waves gravitating toward shore to say hello. I took the handful back to my bed and put some under my pillow, holding others in my hand over my heart.
I had wonderful dreams and a tradition was born.
Since I have started blogging, a new world has opened up and I find myself swirling and dancing in this colorful, joyful place! I feel somewhat like Alice in Wonderland, only the world that I've found is anything but topsy~turvy.
It is a world where creative people give and get ideas. Where people support one another, many having never met in the physical world. A world where so many artists take their first endeavoric steps and are held up by other artists that have been in their shoes many moons before. There is love and light and joy and inspiration and dreams brought forth and cradled by others allowing them to dance across the skies and come alive ~
It is color and laughter and community and showcasing the best of our days in a wonderful circle of blogging bliss!
Along the way, there have been some exciting suprises, too.  I have found myself exceptionally aware of the world and much more mindful of the small details of life and my surroundings since I started blogging. 
It makes my life that much more colorful and leaves my heart holding more gratitude than ever before ~
With that I SHOUT:
~*~ Happy Blog Party, Everyone! ~*~
Oops, did I just hit you in
the head with my party blower?! 
(I picked the Lemondrop off
of the drink tray ~ can you tell?!)
*giggle*
14 Responses to "~ Colorful Bits Of Bliss ~"
Bella!!
I better pick the lemonade…especially since it's so early in the morning (wait…this isn't real anyway…give me a lemondrop too!!)

I love this post! Blogging is so much more than I imagined it could be. And in such good ways. It really has become an extension of me (sometimes I think I spend entirely too much time with it!).

Bella, you are a gift to the world, and I'm so glad you've chosen to share "you" here in this space. I leave here happy every time I visit. You shine your creative side so beautifully here!!

(and hey – it's great to learn about the sea glass!)

Mmmm….the drink was great! (though not nearly as great as reading your words and feeling the vibrant energy you create here…)

Awww, Lance, thank you so much!
I'm so glad that you leave my blog happy every time because I feel the exact same way when I leave yours. Truly, you bring so much positivity into the world and I'm always grateful for that! And, I smile everytime I see you here! 😀

Glad you liked the drink…
I make pretty good Lemondrops, even in the morning!

*giggle*

What a beautifully written post! Thanks so much for sharing your blissfull blogging adventure with us.

Thank you, Claudia and welcome!
I appreciate you peeking and posting here ~ 😀

Good morning!! Love your post! So inspirational with words! I love lemonade I think I will have some! hehe Blogging is so fun because I get to see how far I need to go in the way I word things! you do a wonderful job!! Hopefully you have as much fun as I did at yours!!! Big mermaid hugs

toodles-
sarah

Big Mermaid Hugs Rock,
thank you! And, thank you so much for your beautiful words about my writing…it warms my heart! I know, it's so easy to compare to others here in this creative blogging world ~ there are soooooooooo many people that I admire!

But, you are doing an incredible job with your blog and I enjoyed playing on it!
Relax,
have fun
and go ahead…

take a little curtsy when no one's lookin'

😉

I can't wait to get my book! Thanks Amy! And thank you for being the bright shining star that you are. Beautiful pic and post……beautiful you!

Thank you, my friend! ♥

Now, you have to come visit me…
so you can collect your pressie!

😀

Yaaaaaaaaay!

Hello!
I'm so glad you joined in the blog party. I love your post and your sentiments about blogging. What a positive effect it has had.

I'll take the Lemondrop as well. Yum!!!

Cheers to blogging~
Kari

Thank you Artsy Mama for inviting me to play at your party…
It's been so much fun! Enjoy the Lemondrop 😀
And, I adore your blog, you are such a creative girl, Kari!

Squeezes,
Bella

What a great post! So nice to meet you! Thanks for stopping by to visit me and introduce yourself. I loved your Amish Friendship Bread story. Someone left the starter recipe in one of the comments on that post, so let me know if you want it and I'll cut and paste and email it to you. I like your sense of humor and will be back to visit again to get to know you better. Happy thoughts to you!!

Awwww, Joyce,

Thank you for your compliments and kindness!
I would love the recipe to start friendship bread again…

Hopefully this time my oven will cooperate! 😀

Happy thoughts to you, too,
Bella

😀