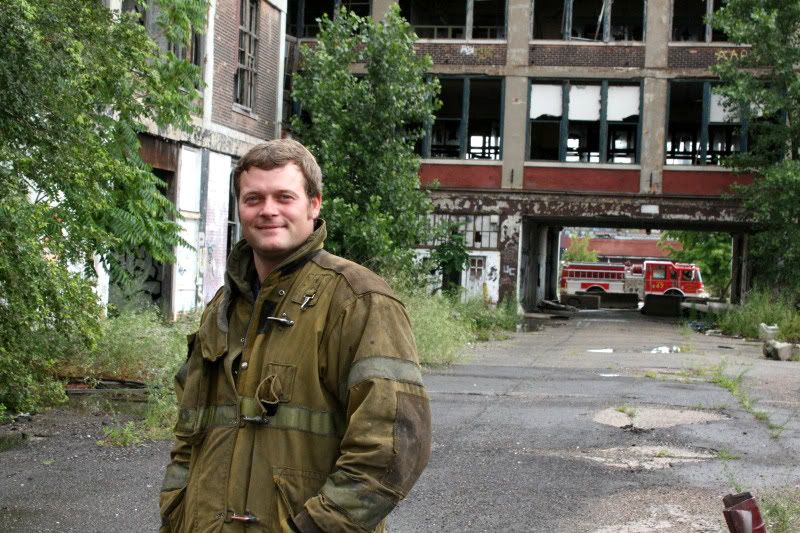 Go Big Or Go Home.
By Bella
Tags: abandoned building, detroit, firefighter, fireman, grunge, inner city, photo, photograph, photography, urban caving, urban exploration, urban exploring
Category: July 2009
Urban Exploration: (Wikipedia)
The examination of the normally unseen or off-limits parts of urban areas or industrial facilities. It may also be referred to as "urban spelunking", "urban caving" or "building hacking". The nature of this activity presents various risks, including physical danger…
My best friend, Kris is in town from California ~
Never one to travel down the common path, she generally has something interesting and unique in mind to do.
When she suggested that we head into inner city Detroit to explore abandoned buildings with someone she had met on the internet but never face to face, I wasn't initially on board!
Later, I was reminded of the motto that
my incredible friend Carrie lives by ~
"Go Big or Go Home"!
For this day, I eventually chose the first ~
it turned out to be an uber fun time and Zack was a great tour guide! Taking photo after photo of interesting ruins was thrilling for me and the fireman photo is one of my favorites of the day.
The firefighters saw us at the abandoned Packard Plant and this fireman came in to see if we were okay and warn us of the dangers. He was a really caring and cool guy.
Overall, the day was excitement intertwined with surreal slight craziness ~
And, I'm really glad that I chose to "Go Big"!
23 Responses to "Go Big Or Go Home."
ya it is a nice photo , i like it too.

The photos today are AWESOME! Looks like a great time,love the motto.

Thank you, Julia ~ I love that motto, too! 😀

Awesome Pics! I really really love the one of Kris! Way to go big my friend (well almost;) you know what I mean.

i like the fireman with thre truck in the back, i laughed at the picture of him walking away with detroit on his butt!

😆

I like that pic, too with the Detroit on his backside!
Ooooh, and I was so incredibly fortunate to get that shot as he was only standing there for a little bit. 😀

Beautiful….sometimes what we leave behind is the most beautiful. The Fireman's behind wasn't bad either. 🙂 Good for you for having a grand day out.

Dharma ~

I like that…"Sometimes what we leave behind is the most beautiful".
And, the fireman's behind is causing quite a stir in here!

😆

i
❤
319
with the blue hues –
soo0oo BIG & beautiful

Hello, sister earth girl,

I really like that one, too!
Thank you!

😀

love you AMY! Thanks for going with me to do something that I enjoy doing… heaven knows how I do it for you when you come to my neck-of-the-woods and I gotta suck it up to go to visit the SEA with you… lol
just kidding! 😉 love you and I'm sooooo glad that you enjoyed it too!!! We can prolly do it in LA when you come, I have a GREAT Urban Exploration friend who is VERY experienced

😆

Too true, too true!

I love you, I'd urban explore again 😀

Amy, I love how you stretched yourself. Isn't it amazing how when we step out of our comfort zones the blessings can be profound? It seems like this jaunt buoyed your courage and confidence. Always a good thing!

Jan,

How perceptive of you! And, yes, you are right and it is amazing what happens when we step out of our comfort zones…sometimes we just f l y!

😀

~Love your photos~Cute Fireman~Did you get his phone number??!! LOL

The firefighters name is **** *******. E 2* Squad * Just an F.Y.I. 🙂

Always go BIG! Glad you went urbexing 2!

Thanks, Karrie for giving me his contact info and Scott, I'm glad, too! 😀