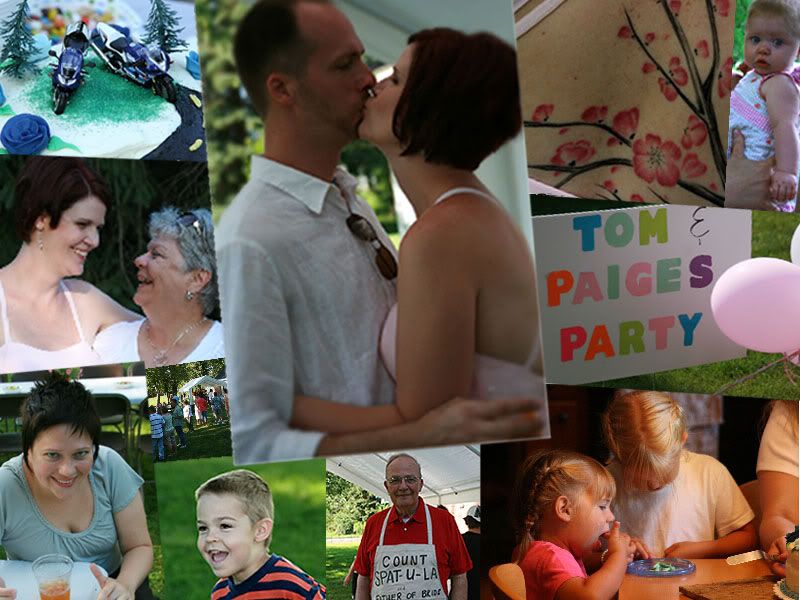 Once Upon A Time ~
By Bella
Tags: collage, colorful, friends, happily ever after, happy, photo, photograph, photography, princess, silly, wedding
Category: July 2009
There was a beautiful and sweet, silly hearted Princess named Paige.
This Princess had dated and smooched a bunch of frogs who didn't turn into any suitable prince matches.
So, she did what any modern day Princess would do to be able to search near and far lands for her own Prince Charming… she joined a reputable online dating site!
There, she met a Prince named Tom who realized
what a wonderful Princess Paige was.
He pledged to spend all
the rest of his days with her.
And, so it is, with an excited heart I report that together,
they are embarking on happily ever after ~
Yaaaaaaaaaaaaaaay!
Congratulations Princess Paige and Prince Tom!
P.S.
You gotta love a bride who wears birkies at her wedding reception!
3 Responses to "Once Upon A Time ~"
Congratulations! Looks like a great wedding!

glad that another princess found herself a good prince! love the birks with her wedding dress!

Many blessings to the happy couple! May your years together always be full of love.