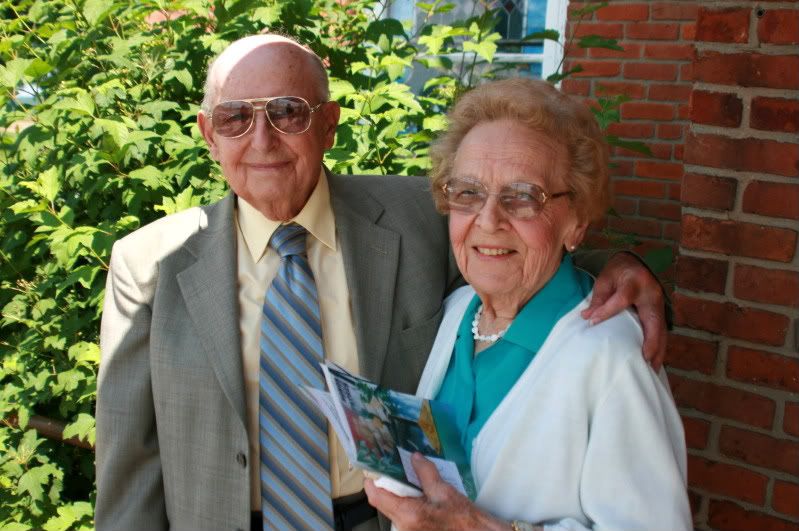 The Original Joybringers.
Those who bring sunshine into the lives of others,
cannot keep it from themselves.
~ Sir James M. Barrie
For years, I have used the term "joybringers" to describe those who literally bring joy into other's lives. I am fortunate to work in a great pediatrics hospital where joybringers are populous. Within my circles of friends, there are some that I am truly blessed to be around, sister joybringers. In my family live some of the original Joybringers that I have been fortunate to know since birth.
Such are the beautiful two up there.
My grandparents.
They both turn 92 this year ~
Later this year we will be celebrating their 70th wedding anniversary!
I am in the midst of planning a grand surprise party for them (shhhhhhh!).
Anyways, I digress.
My grandparents, the Joybringers.
Full of love,
compassion,
tenderness
and sunshine.
Coming to see them is always like coming home.
When my heart hurts,
their love for me makes everything better.
And, when I have cause to celebrate,
they are always joining in the party
with their sweet words
and uplifting natures.
When I think of people that I aspire to be like,
they are at the top of the list.
Both of them share such an honest,
loving nature.
Always seeking to do good,
build people up
and sincerely spread joy.
No matter what happens around me,
I hope that I never lose sight of
Grandma and Grandpa's
vision for life
and strive to be like
them no matter what
others do.
And, I hope to always seek the sunshine,
and share it
just like
The Original Joybringers.
5 Responses to "The Original Joybringers."
yay! i love your grandparents!!!!

You have "joy genes"! No wonder it comes so naturally for you;) You are blessed to have these connections and this love in your life! Cherish everyday my friend.

this post is just so love-ly and joy filled. what a lucky woman you are to have to such dear grandparents. may their anniversary be blessed. indeed, they are joybringers! love the term. 🙂

blessings of joy to you, bella!

[…] The Original Joybringers […]

Thanks for sharing this – and thanks for stopping by my shop. I love the term Joybringers! Mary