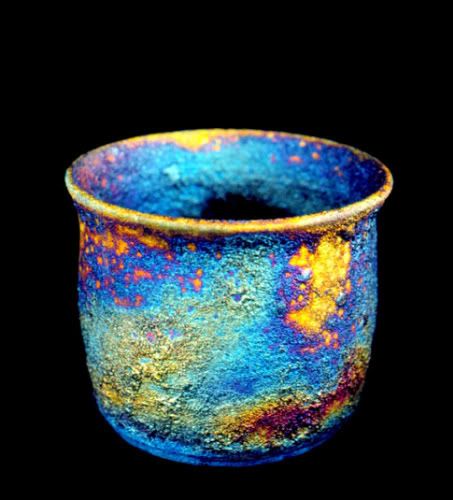 * Raku Under A Full Moon *
Together
with great girlfriends,
in the moment,
laughing and
experiencing something new together ~
What a magical night!
My friend, Carrie is a potter. She taught us a new method of pottery called Raku pottery. There are many, many steps to creating Raku pottery, especially if it's your first time.
A kiln has to be constructed that can withstand high temperatures (greater than 1600 degrees) and huge flame. Luckily, Carrie's sweet husband, Jason was willing to help us with that.
After the pots are created and fired in the traditional kiln, it's time to glaze them .
When the kiln was built and hooked up to a propane tank, Carrie (my pyro friend) lit the flaming wand that was much bigger than I had imagined!
The pots are placed in the fiery kiln and the lid placed on.
When the pots glow orange from the heat, it's time to remove them. Here's my friend Sarah removing the uber hot pots from the kiln!
The pots are quickly transferred to garbage bins filled with newspaper clippings and/or sawdust . The clay creations are so hot that they catch the paper and sawdust on fire right away.
The lids are placed back on the bins, where the fire dies. After about 20 minutes, they are removed and placed in yet another bin, one full of water. Here is where the unusual glaze patterns are set for life.
After that, the clay pieces are scrubbed and voila'! If everything went as it should, you have gorgeous, original pots that never look the same twice.
As we were finishing our night of Raku firing, Carrie looked up what the word raku meant. Guess what the definition is?
*JOY!*
Isn't that serendipitious?!
Right in the midst of our Joy Celebration Week!
14 Responses to "* Raku Under A Full Moon *"
What an awesome day of creativity, joy and friendship! I'll never forget how awesome it was when I looked up the definition of raku and found out that it means *~JOY*~

OH so very gorgeous…
beyooootiful!
xoxoxo

that is magical and wonderful and so fitting for you luscious women to create together – it has been a long time since i saw such a beautiful vessel

What a RAKU… Time spent with friends..working towards a goal…creating with the creativity that God gave you. What a wonderful time.

Carrie, at some point I want to come spend some time with you too and experience the Raku "joy"!!

I love love love that blue pot at the top of this post! It's gorgeous.

just magical! i love this!!!!

What a fun time and stunning synchronicity you've experienced here. I do love Raku and your creation is just beautiful. Isn't it a neat process? How blessed we are to be able to access such simple Joys in our life as creating something wth good friends–a meal, a garden, a quilt, a pot…

I really love this post! How fitting about Raku~Joy. JUICY!

Hi Bella,
Love the walk through this whole process in words AND pictures – very cool! And Raku=Joy –> how awesome is that! Love all the colors in the pot!

~Wonderful Joy times~Great photos~I love the pot you made for ME~

[…] Raku Under A Full Moon […]