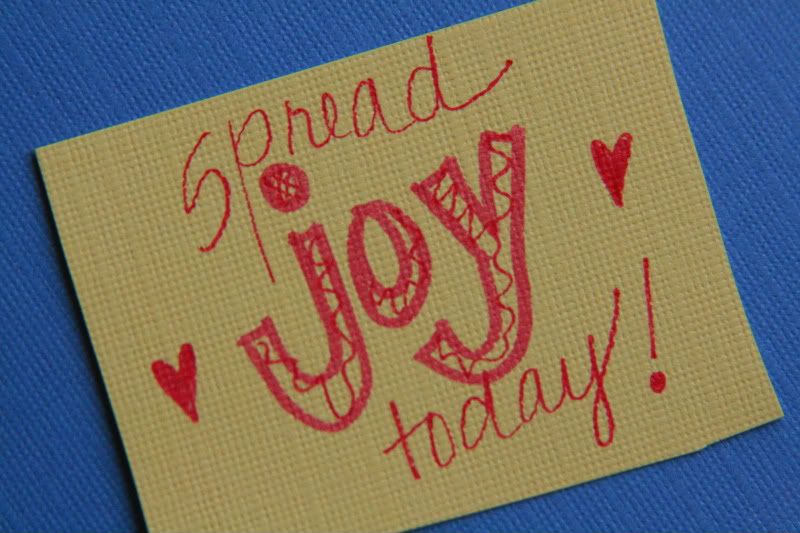 How will you ~
spread joy today in 3 different ways?
It doesn't have to be big things!
Joy can be spread in the teeniest of ways.
For example, I believe a small, sincere compliment
can carry joy for days and days ~
I will ~
Make an effort to smile at everyone today (as long as it's not creepy…ie. If I'm in a crowd of 100 people ~ I'm not going to look them all in the face and flash my pearly whites!
P.S. You can't make me, LOL!)
Give my friends some surprise little gifties ~ everyone needs surprises!
Send an uplifting text to someone that I love.
Have a wonderful time spreading the positive, making people smile and truly making a difference today, Joy Rebelites! You all rock and your great attitudes are contagious!
3 Responses to "How will you ~"
I will sing for my baby as she loves that, call my sister, tell her how much I love her, brush the animals for a long time. ty for the inspiration!

I will tend to myself, gently and compassionately today. For when I do that, my centeredness spills over on to others through Love. Then I am more patient and kind…

I will appreciatively cut some roses from my garden to scatter in vases around my house to beautify our space. I say 'Thank You' to the roses for allowing me to cut them…

I will listen attentively and compassionately to my husband when he comes home today to hear all of his work news, especially any difficulties he might have had.

These 3 very simple things bring me great Joy. May you know true Joy today too!

[…] How Will You Spread Joy Today In 3 Different Ways? […]