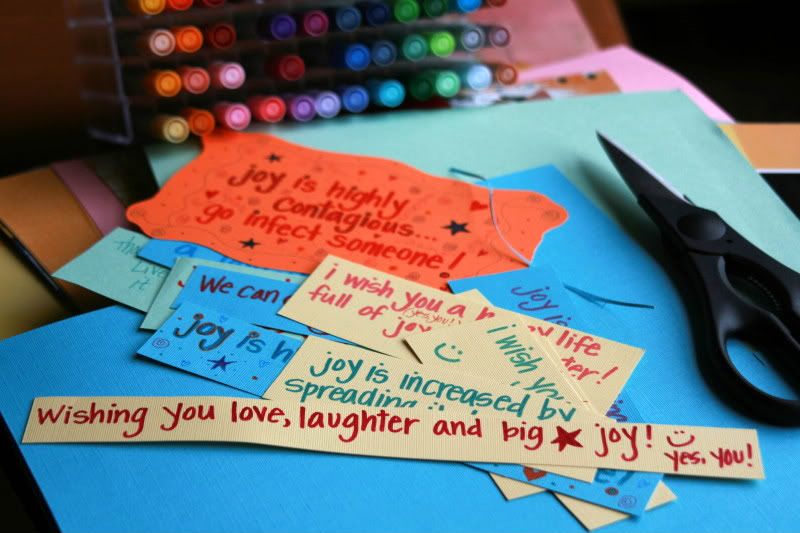 I Feel Joyfulicious!
I celebrated Joy Rebel Day today and it was incredible!
The day started at Safehouse Center , a local shelter that helps domestic violence and abuse victims. I entered their welcoming lobby that was decorated with colorful shirts and blankets made by some of the residents that they've helped. I donated a big, cheery polka dot gift bag of shampoo, lotions, baby things and 2 pretty totebags that my Mom made. The staff was incredibly friendly and grateful!
With a handful of coins and my pocket full as well, I scattered change around for people to find all day. It was so much fun watching a little boy's excitement when he found a small pile of money I'd left behind! At the entrance to a restaurant, I'd left a long trail of coins. With no one around and me watching in the car, I saw a man thrilled to collect the found little treasures!
*happy sigh*
I created a bunch of colorful joy notes to leave around here , there and everywhere! That last note I tucked in the back of this sweet, older man's wheelchair. And, someone that I know just may find a couple in their mailbox in the morning!
I drew some sidewalk chalk messages, mailed a surprise package to a friend that lives far away and drove 40 minutes away to the shelter where I adopted Isabella kitty . There I donated a big bin full of dog and cat food and treats!
I ended Joy Rebel Day spontaneously treating myself to a pedicure and sharing my day with you!
~ It was a wonderful, joyous time ~
Thanks for coming to play at my blog party!
17 Responses to "I Feel Joyfulicious!"
Thanks for sharing for day with me, now visit my site and share my day with me.

Sounds like you had a great time….I know I did.

i loved this.

you are the coolest, funky mama.

xox

Hello my wonderful new Joy-filled friend! What a delightful way to begin our Joy Party. You are so very very very creative and generous of heart. You shine! I announced the party yesterday on my blog and this morning I will get my version officially started there. It has a slightly more spiritual slant, as you may already know. (LOL) Hope you and others will stop by!

Oh, yes, we've been "Pilgrimaging into Joy" at my blog for 30-days now and because of you and Brandi, we're extending the trip, so there will be 8 more days of Joy. There are plenty of "older" Joy posts to read for first time visitors, too. I just did a "Joy of Gardening" post on Saturday (as I do love gardening!) and yesterday I posted on the relationship between Love and Joy.

So I hope you all will stop by to say 'Hi!' and let us know who you are and how Joy fills you. With love, blessings, and all good things…

This is awesome, Bella!!

Just being here…I'm feeling joyfulicious (I LOVE that word!!)!

Woohoo!!

beautiful!! I love that you choose to SPREAD joy.

What an amazing day!!!!!
You rock!

~Hello Joyful Pretty Girl~I found 'Joy'in my mailbox today~I loved it~Now watch yours~You are so creative and such an inspiration and a JOY to all who are lucky enough to know you and be able to call you their friend~

too fun !
I hope to join in before it's over as I will be traveling thru the 6th…
thanks for making me smile 🙂

you are just so very glorious 🙂

you bloody beauty

that made me get all tearful….

you just spread some more of that joy you lovely soul you…

i celebrate the joy in you and all that you created for others today!!!

I loved reading this! What a great day you had. You spread so much joy around!

wow. i liked reading this. thats sooooooooo cool how u hid sweet notes for strangers to find!!!! and i'm lovin' how you left lil piles and trails of change around for people to find!

…and ONCE AGAIN, IRONIC because TODAY i found one of your treats that you hid for me OVER a year ago and i never found till today…. a butterfly patch found hidden in a pocket of one of my aprons!!! LOL ~FUN!!!!

WOW!!! What blessings you left for others all day long! I'm sure many people were touched and made to smile by your many surprises and treasures.

This just made *my* day, I must tell you.

[…] I Feel Joyfulicious! At The Forest […]

Can I come hang out with you? 🙂 I LOVED reading about your joyfulicious day! What joy you spread…. in addition to receiving joy by doing it! You ARE a blessing.