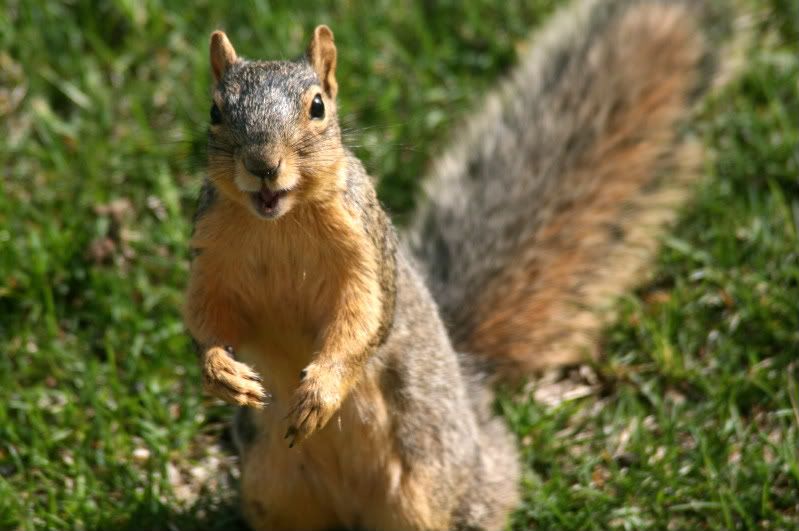 I Snuck Away Today.
Away from the busyness of the hospital and
the sorrow in one of my tiny patient's room.
Away from people needing something from me.
Away, away, away I went.
Out into the courtyard,
where a gorgeous day greeted me
and nature was all around.
I watched the squirrels for awhile,
completely lost in observing
their playful movements.
And, I felt the magic envelope me.
The magic that comes to swirl about us
and fill us right back up just when we need it.
At the time where we stood at the edge of
having nothing more to give,
suddenly
and sweetly,
it all comes back.
And, we find ourselves at a different place,
able to go forward and fill up others
because we first filled ourselves up.
I hope that you sneak away today
and that you find little, precious
moments to fill
yourself up
with ~
9 Responses to "I Snuck Away Today."
ADORABLE photo! I was just talking to my aunt the other day about making small times for yourself. It's really important, thank you again for the reminder.

Something I need to learn to do more – just to get away. And not just physically. The mind can work overtime, too.

Way to fill yourself up Amy, and thanks for the reminder…I needed it today 😉

Beautiful words my friend~

Beautiful, Bella. Joy in little things and the wonder and magic of nature is indeed always there for our taking.

And I will for sure get away, away away today. Maybe right after I post this, I'll go out and kiss a tree. Caress its joyful leaves. Yes, I most surely will!!

In 3, 2, 1…

So glad you found a way to fill yourself up in the midst of a hectic and trying day. And thanks for the reminder my friend!

Bella, this is so wonderful! And beautiful.

We have to first take care of ourselves, before we can fully give to others. You're an inspiration! You light up my life, very much, today…

the courtyard at your work? i love that courtyard. i always took my lunch breaks there on the bench. I wonder if they are hiring in the medical records department? I want that job again. i loved it! let me know if there is an opening??? they should pay you to frame photos like THIS one of the squirrel to put in the patients rooms so they can see "innocence", happiness and nature and elements of being "outside". this photo is perfect to be framed on the wall in the kids rooms at the hospital. PROPOSE something to them????

~Had a very special moment today~shared my ice cream with my Mama raccoon 'Lola' She loved it. I thought of you and your love of nature and especially the delightful raccoons~You are the BEST~