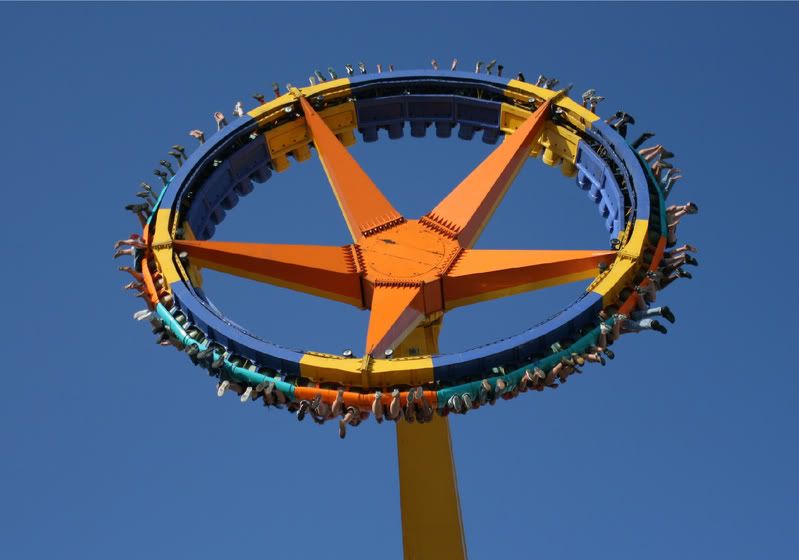 The Circle Of Tag Goes 'Round Again ~
I was tagged by the very sweet and fun Jannie to answer these questions ~
1. Who is the hottest movie star?
Wow, it's hard to say just one but for the big screen I'd go with a sweaty Matthew Mcconaughey as one of the finalists. For the small screen, I'd pick Josh Holloway from Lost and Adam Lambert from Americal Idol.
2. Apart from a house and/or car, what is the most expensive thing you've ever bought?
My trips to Europe and my camera,
both worth the money!
3. What's your most treasured memory?
Wow, it would be hard to pick just one. I'll share one of the many… One Christmas after I'd gotten back from a 2 month road trip with my best friend, Kris, I'd been yearning for a really good camera. She's taken an old, really good film camera on the trip and her pics compared to mine…well, there was really no comparision! Mine sucked. I was 19 at the time and I'd just finished opening my gifts from my dad. There was no camera. I had wanted one but I knew it was expensive so I wasn't expecting one at all. My dad stood up and said "Wait a minute! I think that Santa left another present in my closet for you…silly Santa, why don't you go get it?!" I ran to his closet, opened up the present and inside of it was the exact camera I had been wanting ~ a Canon EOS Rebel film camera! I had never even told my dad what kind of camera I wanted which made it so much more incredible to me! I don't use that camera a lot anymore but I still love it and will keep it always.
4. What was the best gift that you ever received as a child?
When I didn't believe in Santa at the age of 5 (Having snuck down and peeped my parents putting presents under the tree at 4), my mom told me to ask Santa for anything and not tell her. If I got it, I'd know he was real and if not, he wasn't. I whispered in Santa's ear that I would like a green truck and a blue truck for Christmas. I never told anyone else. On Christmas morning amongst all the dolls and other toys I'd received, there was a large metal blue truck and green truck side by side with bows on them! A couple of years ago I asked my mom if she told Santa to write down what I'd asked for. No, she exclaimed that she'd forgotten about it in the busyness of the season and it was just serendipitous that I got those two trucks in the colors I'd specified! Looks like he's real after all.
5. 4 words to describe yourself ~
Upbeat, Fun, Optimistic, Loving.
6. What was the highlight of 2008?
Traveling, time spent with friends, family, photographing the year.
7. Favorite film?
My recent favorite? The Hangover. I went with 3 girlfriends and we
laughed throughout the whole thing!
8. Tell me one thing that I don't know about you.
Once, when I was out west I became completely enthralled with a baby buffalo. The mother buffalo, very much the opposite of being enthralled with me, charged at me! I don't think that I have ever run so fast in all my life and thankfully I was completely fine!
9. If you were a comic book / cartoon character, who would you be?
Wonder Woman if it were a comic book because, well, I'd wear a cool costume (and look hot in it!) and have a magic lasso rope!
If I were a cartoon character, I'd pick Spongebob. He's cute, fun, has a great best friend, lives in the sea and has a lot of adventures!
10. What's one stupid thing that you did today?
Shut the car door on my head. In my defense, it was a really small space between the cars in the parking lot and my head was at a weird angle!
~*~*~*~
I'm tagging 8 bloggers:
Brandi ~ www.brandireynolds.blogspot.com
Stacey ~ www.mylifeinrealtime.wordpress.com
Lance ~ www.jungleoflife.com
Faerian ~ www.morethingsithink.com
Kate ~ www.k8et.com
Denise ~ www.bohophotography.blogspot.com
Rikki ~ http://project365-rikki.blogspot.com
Nico ~ http://mypathtothefirefly.blogspot.com
~*~*~*~
5 Responses to "The Circle Of Tag Goes 'Round Again ~"
I love the buffalo story. Reminds me of a time a couple of years ago when we were in Yellowstone. Stopped to go on a hike with a ranger. Ended up, there was one very aggressive buffalo – and he started to follow us. The ranger looked scared, and took us toward the woods. I was with my youngest son (the rest of my family ditched me to get to the front of the line!) and we were at the very back – buffalo not far behind. I was never so glad to get into the woods as at that moment…

Your photos here are awesome, Bella – so I think your camera was a wonderful purchase. And I also think that experiences are so worth it (like your trip to Europe)!

Great to know you a little better…

Hangover — better to see it in film rather than experience it in person, eh. Any day!

I have never seen a buffalo, not that I know of, anyway.

So tell me more about your trips to Europe!! I've only been once, for a month. I wants to goe back there!

And I wants a gud kamera. and a greene and a redd truck.

Woo-hoo. Let the memes go rounde n rounde. Thanks for doing this.

[…] was tagged by Bella! OK let's […]

*sigh* josh holloway. 🙂

I'm terrible at doing these so I respectfully say thanks for the tag but please don't be offended if I don't play along. I know myself-and I know I'll slack off.

You know Matt Mcconaughey doesn't "believe" in wearing deodorant, right?
He's hot fer sure…..but I'm not sure I'd want him "sweaty" teehee….; )
I LOVE your Santa story!