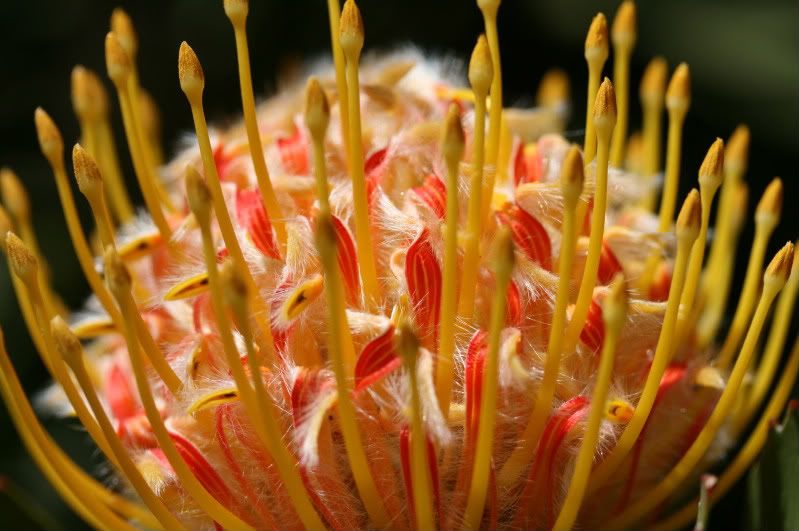 Find The Good.
By Bella
Tags: beauty, flower, good, happy, joy, macro, macro photography, orange, photgraph, photo, photography, protea, yellow
Category: June 2009
It's All Around You.
Find It.
Showcase It
And You'll Start Believing It.
~ Jesse Owens
I turned my calendar
today
and this was the beautiful
quote of the month ~
♥
15 Responses to "Find The Good."
~You always amaze me in how you find the good in the smallest of things~You are such an inspiration to me~Today I had a Starbuck's 'Carmel Latte' and thought of you~Yummmmm

Awww, thanks and Yum, yum, yum! 😀

pretty quote and flower photo! What kind of flower is that?

Thanks, Julia! 😀 It's a protea flower and I LOVE them!

We all love your site and keep up the good work!

So I fully expect to hear at least 5 photography shows/contests you are enterng this photo in cause let me just say…IT FREAKING ROCKS!

Oh yea…and focus on the good….sure I'll do that but come ON Amy..this is a winner pic and needs to be displayed:)

You are so incredibly supportive ~ thank you, Carrie! I will enter this "winner pic", as you say 😉 I think I'll sell prints of it in my new online shop when I have it up and running. 😀

This photo is STUNNING… a UNIQUE flower indeed!
I agree with Carrie about the contests!!!

Thanks, ( ( ( ( Krissica ) ) ) ), you are always so supportive, too! 😀

The good is indeed everywhere. It is a matter of perspective. As you learn to sense the blessings whereever you are, then you dissolve negative thinking and attune more deeply to love and what it is silently teaching you.