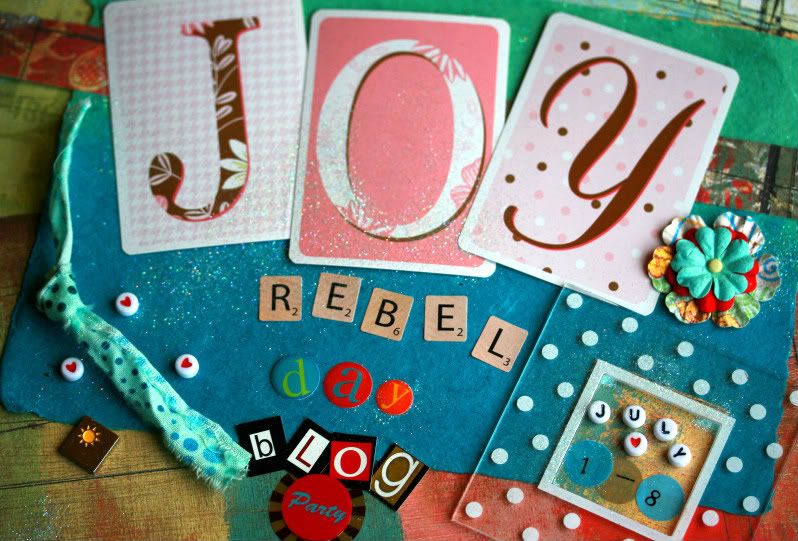 * * * Joy Rebel Day Blog Party * * *
Not sure what a Joy Rebel is?
It's Brandi Reynold's neato creation! You can check out her site to find out…
And, if you're not a Joy Rebel yet,
you can join in at any time. 🙂
With Brandi's permission, I'm presenting the
idea of a Joy Rebel Day Blog Party!
What is a Joy Rebel Day Blog Party, you ask?
On one day between the dates of July 1 ~ July 8,
if you have a blog, you can share in the fun and blog about things like ~
What you did on Joy Rebel Day,
How you spread joy,
How you felt,
How you made others feel,
Show photographs…
Just some ideas as there really are no rules.
Basically, share whatever you wish
about whatever you did ~
I'm thinking of using it as a "giving to the world day" and I'm excited to spread joy in this way!
My blog will be participating and hopefully yours will, too.
I'll keep a blogroll here of those that will be having a Joy Rebel Blog Party on their blog so leave a comment here or e-mail me at: gigglybella@yahoo.com with your bloggie link if you want to play and I'll add you to the list of those playing.
~*~ BLOGROLL of Joy Rebel Day Blog Partiers ~*~
Me ~ (I think that was obvious! *giggle*) www.SheSleepsWithSeaGlass.com
Brandi ~ (I think that was even
waaaaaaaaaaaaaay more obvious!) http://brandireynolds.blogspot.com
Lexi ~ http://lifepeaces.com
Stacey ~ www.mylifeinrealtime.wordpress.com
k8et ~ http://k8et.com
Lance ~ http://www.jungleoflife.com
Denise ~ http://www.dlynneartdolls.blogspot.com
Victoria ~ http://dancinginthesky.blogspot.com
faerian ~ http://morethingsithink.blogspot.com
Donna ~
http://web.mac.com/silverjesse/http:__web.mac.com_silverjesse/peace/peace.html
Jan ~ http://awakeisgood.blogspot.com
Meg ~ http://theadventuresofmamabear.blogspot.com
Darrah ~ http://artcetera.squarespace.com
Nicole ~ http://www.11photographs.com/blog
Beth ~ http://www.moredoors.blogspot.com
Karen ~ http://gracefulcreative.com
Dani ~ http://positivelypresent.typepad.com
Bohomom ~ http://bohemiansinglemom.blogspot.com/
This will be FUUUUUUUUUUUUUN!
34 Responses to "* * * Joy Rebel Day Blog Party * * *"
you are so awesome it's ridiculous.

😆
Thanks, you rock, brandi!

i have been doing monthly themes with my blog since february and i plan to continue through the rest of the year. i had some ideas about upcoming months and one was to spend a month blogging about poisitivity. posting something i did or witnesssed that was positivie. so i'll make july positivity month so you can add me to your blogroll!

Awesome, stacey! 😀
And, I love how you are celebrating Joy all July ~

Ooooooooooh, I hope so too, k8et! 😀

Hi Bella,
What a great place to be today!! This is so awesome! I'm in!

Brandi's started something pretty special! And very cool how you're taking it even further – I LOVE it!!

(the exclamation point rules here!)

Hiya Lance,
You seem like an incredible Joy Rebel to me ~ 😀
Brandi did start something awesome and I'm glad that
we're a part of it and this is kind of "Exclamation Land"
sometimes, isn't it?!!

Sure, count me in! Do we link our blog party posts to anything? Brandi's site? this page? Can't wait!

Hi Denise, I listed you as a Joy Rebel Partier ~ WOOT!
During the week of the blog party, I will change everyone's blog links to link directly to their Joy Rebel Day Party Page so that we can all be a part of the whole, great big party scene! 😀

[…] Party is coming up, July 1 – 8 … it's not too late to join the other partiers! Sign up here if you want to play […]

Yaaaaaaaaaaaaaay, I added you to the blog party list! 😀

Bella,
I am up and running. Just did my Joy Blog Party post and welcome others to come on over. I'll be popping in to their sites too. I thank you for inviting me to participate. You know we just did a 30-Pilgrimage into Joy but I extended the tour just for you and Brandi. Such a great idea and who doesn't love a party! I love what you did yesterday to spread the Joy. You are an amazing woman and it so great to get to know you. Have a most joyful day, my friend.

How awesome, Jan! Can't wait to come over at play! 😀 YAYYYYYYYYYYYYYYYY!!! It's great to get to know you, too! Thank you so much for your Beautiful words.

Count me in! I just shared a story on my blog about how I found joy at the DMV (of all places). I can't wait to read all of your Joy Rebel stories and get to know all of you better.

Thanks for setting up a forum for all of us to share our experiences as Joy Rebels!

You rock, sister! I can't WAIT to read your whole story (the DMV?!!!!) WOWZAS!

I am just full of joy and happiness for this whole day and giggly with bursting love that I found your and Brandi's sites.

Happy Joy Rebel Day!! With many more to come.

Awwwwww, thank you for your beautiful words, Jannie! 😀
Happy Joy Rebel Day to you, too, giggly and bursting with love ~ friend!

Hey Bella…….beeeeeautiful blog !!!!
This is great. Brandi rocks and I'm glad the whole week is mine to participate!

Awwwwwwww, thank you!

Rock on, Bohomom! I added the link to your site, thanks for playing!!! 😀

Looks to be alot of fun.

Raven

Hello gorgeous Raven! 😀
You can play if you want, it's not too late!

Woohoo! I'm here for the Joy Rebel Blog Party. I'm so excited about taking part in this exciting week of JOY! 🙂

Weeeeeeeeeeeee! I added the link to your site ~ thanks for playing! 😀

Hi Bella!

I would love to participate in the blog party! What fun I will have checking through the other people's Joy Rebel Days! Be sure and stop by and check out the interview with Brandi that we did! It was a lot of fun! I was very impressed by your beautiful collage that you created just for this party. Wow. Creating something that beautiful would be a major undertaking in my world! It is really cool!

Hi Bella and Brandi .. great idea .. and your source of friends .. sounds like you'll have a brilliant week long party .. you'll need another long weekend to recover!

Enjoy your week rebelling and joyously sleeping with sea glass ..
Hilary Melton-Butcher
Positive Letters

[…] To find out what all the fun is about ~ click here ! […]

I've just immersed myself in all of this for quite a long time and it's all joyous!

Pretty cool post. I just stumbled upon your blog and wanted to say
that I have really liked reading your blog posts. Anyway
I'll be subscribing to your blog and I hope you post again soon!

Best thing I've seen all day, your blog! 🙂

Amazing, I did not heard about this topic up to the present. Thanx!