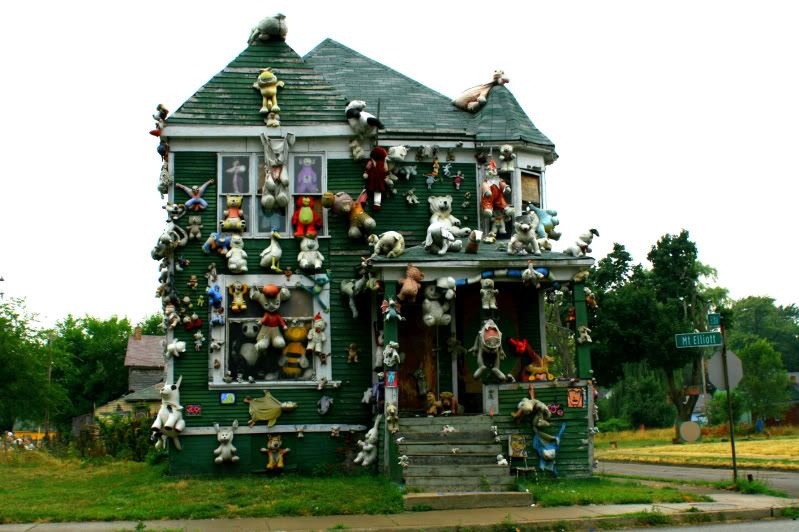 Adding Rainbow Goodness.
Giving back to the world,
Helping Communities &
Coloring other's lives happy ~
That's what I'm thinking about today!
About how when we spread joy to others,
it's magical how it soars in a perfect circle
right back to us.
I always wanted to make a difference in this
life, to help and inspire others. It's one of the
main reasons I chose my career working in critical
care at the hospital.
I think giving to the world makes our spirits complete and gives our lives purpose. Whether it's a small thing like opening doors for someone, letting another driver in your lane during busy traffic or something larger like starting a joy rebellion or "The Heidelberg Project", it all creates positivity and collectively keeps the circle of good going 'round.
Tyree Guyton began what is known as "The Heidelberg project". He grew up in Detroit on Heidelberg street. Tired of seeing all the crime occuring in neighboring abandoned houses, he began to paint them vibrant colors and decorate them with eclectic, brightly painted objects that he found discarded.
In doing so, crime decreased and many drug dealers moved away. He created homes for those who had none and has done tremendous things for the community.
I had the priviledge of spending a day there with my friend, Kris photographing the amazing project in inner city Detroit. In fact, we are planning another visit this summer to photograph and to visit a family that we met there. The family that we met were amazing and have lived in the block of the Heidelberg Project for about 50 years, observing the transformations. At one point they were planning to move due to all of the crime until Tyree changed that!
I am inspired by this man and this project and it makes my spirit sing knowing that we really can change things for the good.
Let's keep sprinkling rainbow goodness,
spreading joy,
growing the good,
and making a positive difference!
Are you with me?
18 Responses to "Adding Rainbow Goodness."
Baby I'm so there with you…"growing the good"….I like that! Beautiful pic and beautiful post.

Awwwwww, Thank You SO Much!
Beautiful You ~

wow. what an amazing story. what a unique and wonderful way to make positive change. this guy rocks.

I didn't know about this until my friend Kris shared it with me ~ he is extremely amazing! 😀

I am with you! This is a great posting and what an inspiring man! You are 2.

He is very inspiring and thank you! 😀

"Home Sweet Home" I LOVE this place and hope we can do another photo shoot there this summer!

We *ARE* doing another photo shoot there when you come home this summer ~ no doubt about it!!!

i love those houses and that little girl is just adorable! you'll have to take me there next time i come over to your house to play! i love the story behind all this too!

Isn't she precious? And, it is amazing what he's done! Totally inspiring ~ I'd take you there 😀

So art and a bit of color does change the world huh. That is very encouraging. Thank you for this story. It makes my day. xoxox Love from Brussels. Maybe somebody can come here with a huge paintbrush too. 😉

Awwwwwwwwwww, Pomme~In~Brussels,
I am so glad that this made your day!
And, yes, a bit of color and a positive spirit does indeed change the world!

xoxoxoxoxo

Maybe you and I can paint some bright things in Brussels someday together. 😀

This guy is awesome….and inspiring!

The Heidelberg St. project. Words do not express how great that is.

Love and joy is everywhere. People are so wonderful.

And I did go kiss my oak tree just now. And one little shrivelled sucker leaf was near the bottom of the trunk. I caressed it and swear I felt the hum of good energy right to the core of the Earth.

In fact, I think I'm going out to that tree right now again!