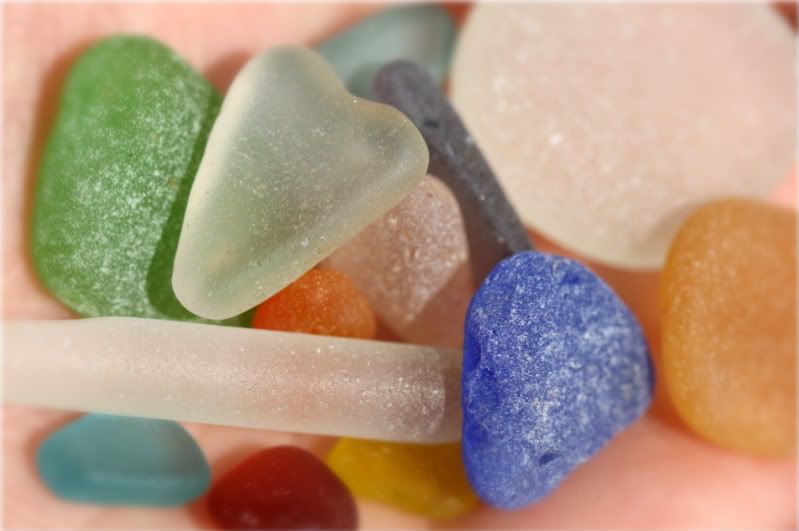 I Held Love In My Hand ~
And I gripped tightly,
those colorful treasures
from the sea
that I loved.
I cradled the glass,
softened by years of
waves and storms and
crashing into rocks.
There I was ~
Looking out as far as
I could see across the
water, with my
pants and sleeves drenched,
a big grin upon my face.
I bid that sea goodbye,
for it would be six months
before I saw her again.
And, my heart already began
to miss her even as she still
swirled about my feet.
Tonight, I will sleep with my
adored gifts from her.
Gems will be under my pillow,
assuring sweet dreams
of toes dipped in salty waters,
loved sea treats in my palm
and warm sunshine
kissing my cheeks.
10 Responses to "I Held Love In My Hand ~"
Well, what a wonderful cooincidence — in my second last blog post I metioned seaglass in a poem!

I LOVED this poem. I grew up by the bay and only get there once a year, being land-locked here in Texas as I am. Well, Austin has a river and lakes, but it's just not the same.

Thanks for such a lovely uplift.

(I came here from Lance's blog.)

Awwwwwwwwww, Jannie, welcome and thanks so much! 😀
I peeped out your cool blog and your interview with Lance
and it looks like great things are happenin' for you! YAY!

*sigh* you paint such vivid pictures with your words. you make me long for the sea as well. beautiful picture!

( ( ( ( brandi ) ) ) )
Thank you! And, sometimes I long *deeply* for the sea!

I love how you sleep with sea glass…for REAL. It's one of the most precious things I know about you:)

Carriegirl, you sweetie~petie~pie!
😀

within the first second of seeing this photo, they looked like "gum drops" candy.