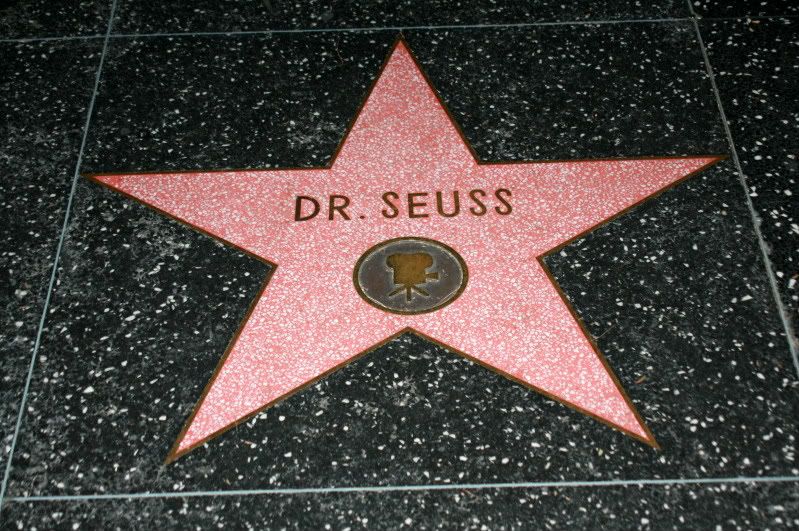 Be Who You Are ~
And Say What You Feel Because
Those Who Mind Don't Matter
&
Those Who Matter Don't Mind.
– Dr. Suess
I love this quote, it speaks to me today ~
Recently, along with my friend Kris, I visited Hollywood and photographed some of the Hollywood stars on the walk of fame that made me laugh! Some of them were Godzilla, Pee Wee Herman, Lassie and Dr. Suess!
When I was little, Dr. Suess was one of my faves. I was a little obsessed with the book "Green Eggs and Ham" and had my mom read it to me everyday. Somehow that book came up missing while I was sleeping one day.
And, I got it back as a gift from my mom when I graduated high school!
*giggle*
oh, dr suess,
i heart you here,
i heart you there.
i heart you in hollywood
and really anywhere.
10 Responses to "Be Who You Are ~"
I didn't see his star when I was there! Very cute and the quote is true. 🙂

Awwwwwwwww, maybe next time! 😀

hehe! yes!! I love this post-it speaks to me today too. 🙂

( ( ( ( SweetBrandiGirl ) ) ) ) 😀

horton hears a who is my most favorite one!

I agree!

I would love him in a boat,
with a goat on a float in
a hot pink moat!

Ummm, okay, I'm no Dr. S! 😆

Your mom is one SMART lady….and how COOL that she gave the book back?!
That is AWESOME! It also made me giggle HUGE!