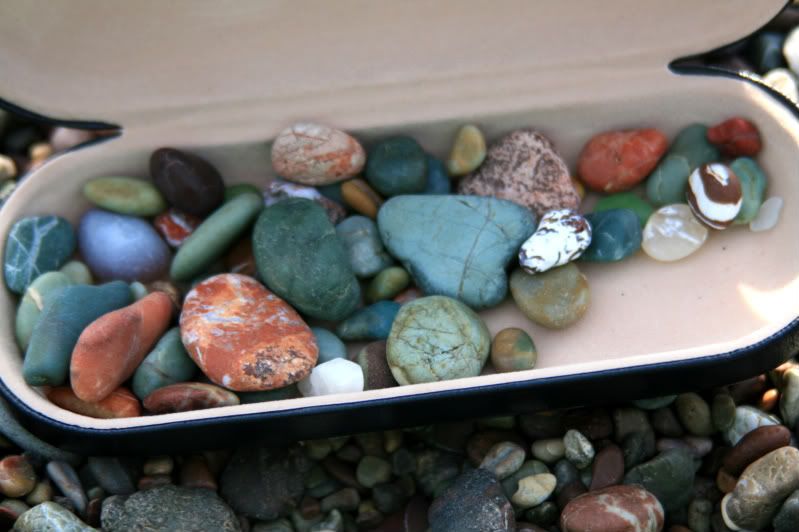 Eyeglass Case Or Magic Holder?
It was a spontaneous turn at the last minute.
After all, that's what road trips are all about, right?
Spontaneity. Freedom. Fun.
A beach down the way from an eclectic antique store in the middle of nowhere, northern California. It was sprinkled with millions of beautiful stones, all different colors.
Discovering it was pure enchantment to me.
As a child, we would vacation in northern Michigan and every summer I would buy bags of polished stones. They were very much loved treasures to carry around in my little girl purses.
These were laying on the beach gleaming as if they had just been professionally polished, like the ones that they sold in the tourist shops. So incredibly delightful and to this minute I still cannot get over them!
I put them in a recycled caperberry (Let's talk caperberry martini's sometime!) jar in my livingroom yesterday and have already had to dip my fingers in twice just to feel their softness and marvel over their bright, fun colors.
(Don't tell my optometrist that I finally started wearing the glasses I just got prescribed occasionally and then used the case to collect stones, okay?!)
10 Responses to "Eyeglass Case Or Magic Holder?"
OMG, isn't this the same colors as your NEW FASHION color scheme??? LOL, i can just picture you with your "little girl purses" LOL!!! now that's a precious image in my mind…
WOW, I LOVE these stones almost enough to drive up there!!! I REALLY LOVE THEM!

😀
You are soooooooooooo cute!!!

Very cool rocks – awesome find! My kids always pick up unusual rocks and bring home whenever they find any. And these qualify – so colorful!

I adore your childlike awe and wonder….the spirit of adventure and discovery!

Awwwww, you made me smile, thanks, Carrie!

I think this might be my favorite blog post ever!
Beautiful stones!

Awwwwwww, your favorite?
*happy sigh*