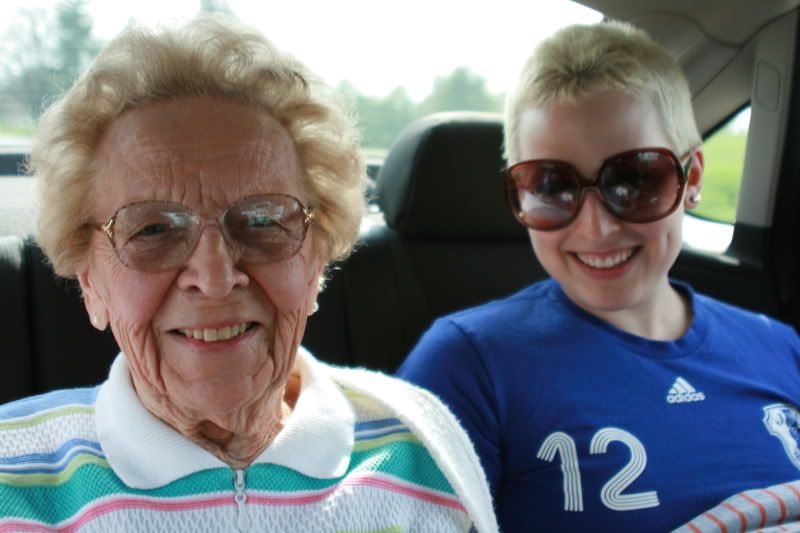 This makes me happy :)
My cute 91 year old grandma in the backseat of my aunt's compact car, sitting in the middle seat and to the right of her, my younger cousin, Korry.
There were 5 of us squashed together in there (!), on our way to a mother~daughter dinner.
Grandma left me a voicemail the day before asking me to go. How could I refuse? There's just something magical about spending time with those who love you deeply,
the women of your tribe.
10 Responses to "This makes me happy :)"
This made me happy too,love it!

My father's mother is lovely, but she lives 1,000 miles away. My mother's mother is . . . well . . . unpleasant. And she lives down the street. Such is life, no?

Ugh.

Reminds me of that Alanis Morrissette song "Ironic"…
Is that song stuck in your head now?
Do you hate me?
Just a little bit?

😉

Thanks, CarriePie ~ I am really grateful ~ 😀

so freaking adorable! btw, I browsed through some of your other entries and you are an awesome photographer!

thanks for stopping by my blog. 🙂

Thanks so much, Brandi! And, you rock, btw ~ 😀

Precious! I HEART your grammie-pie! i like Korry's style, you know im into ADIDAS big-tyme too! i like her glasses and her haircut. I can't pull off the haircut cuz my face shape doesn't look good with short hair but if it did, i would've done it a long time ago. She has similar fashion style to me maybe! What was it the other day that you said your mom and I have in common again? i forgot…

Grandma is precious, isn't she? I heart her BIG!
And, Korry has a cool style ~ you both are original and like fun, bright colors!

😀