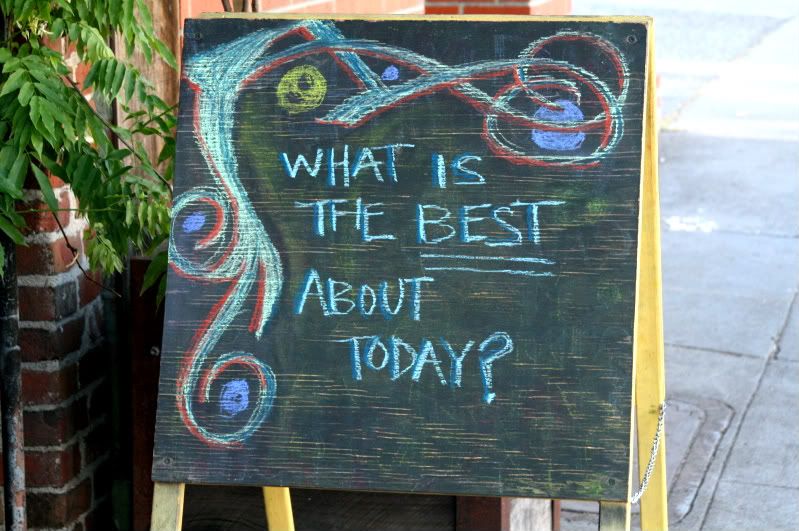 I am…giggly.
😀
😀
She gifted me the cookbook that she had bought when we went to Cafe Gratitude ~
Just like in the restaurant,
the recipes are named
upbeat things like ~
I am magical
I am cheery
I am adventurous
I am thrilled
I am divine
I am fabulous
I am luscious
I am grateful
I am festive ~
On the phone, she was excited to
hear what I was making.
"So, what are you"?
I hadn't even looked at the titles of the things I planned to prepare.
As I looked them up, I began to laugh and replied…
"I am creamy and I am flowing".
Silence.
Then, "Ewwwwwwwwwww"!
More laughter ensued.
Tonight, amidst giggling to myself,
I made a healthy, raw dinner (my first!)
with almond milk, zucchini noodles and a macademia nut sauce.
And, it was delicious.
I think that was the best part of my day today ~
How about you?
4 Responses to "I am…giggly."
1st of all… GROSS! ~"i'm creamy and i'm flowing"… WOW!!! lol
2nd of all… i NEED to get the cookbook for myself 🙂
3rd of all… im happy you made something Vegan and Raw!

1. Creamy and flowing made people at work laugh today!
2. I think that you might like that cookbook 😀
3. You're right ~ it is vegan, too.

Love you, Krissica

Ha Ha Ha Ha!!!! Hey creamy flowing girl….I am festive and spunky! The best part of my day today is early morning laughter with my best friend and husband J. At 4:30 am we were laughing hysterically chasing each other around the house. What a way to start my Friday! So glad you loved Cafe Gratitude! It's one of my favorite places!

Dear Festive and Spunky,
I ***LOVE*** the way that your day started!
Thank you for sharing that, it made me smile BIG ~ 😀

Squeezes,
Creamy and Flowing