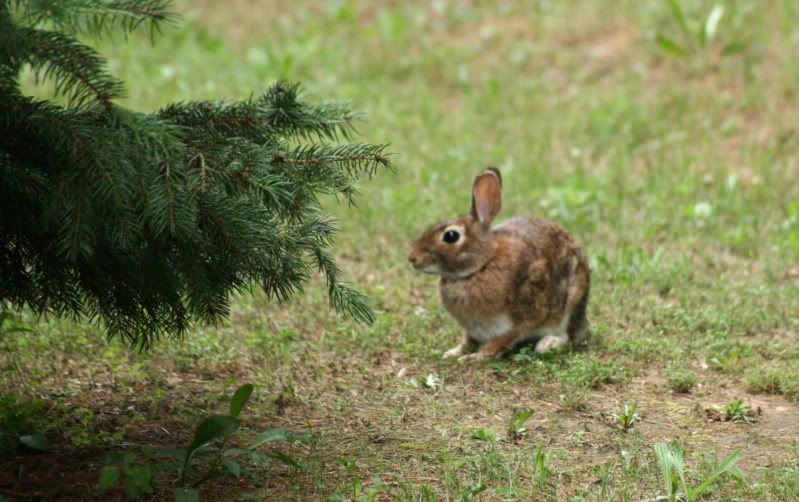 Dear Easter Bunny,
Can you please put a stop to the mass quantities of Cadbury Eggs being stocked at all of my local stores?
(You know the ones with the disgustingly wonderful ooey, gooey, sticky high fructose, million calorie yolks?   YUMMMMMMMM!)
I saw you this morning but you hopped away before I could put in my request ~ but, I really, really need your help.
I have an addiction to them.
(It's a SERIOUS addiction.)
I know that I can count on you, EB.
Thanks in advance,
Bella
P.S.  The next time that I see you, if you could just hold still a little bit longer, I would be SUPER grateful! 
 It's very hard to photograph you as you are running at the speed of light away from me for 2 reasons.  1, my camera captures mostly a furry buns blur and 2, I think that you know that I haven't been working out for *cough* months and that,  in combination with the high amounts of Cadbury eggs in my diet as of late doesn't equal me running a bunny chasing marathon in the morning through the countryside. 
Thanks, in advance for this, too.

12 Responses to "Dear Easter Bunny,"
when i first brought my camera home i had set it to timer and didn't know it, and i didn't know how to turn it off. so i chased a little brown bunny around my yard waiting for the timer to go off so i could take the picture! lol! all i got wass blurry bunny buns too!

when i first brought my camera home i had set it to timer and didn't know it, and i didn't know how to turn it off. so i chased a little brown bunny around my yard waiting for the timer to go off so i could take the picture! lol! all i got was blurry bunny buns too!

i felt really strongly about this, so i posted it twice. just sayin'

oh believe me i know ALL about the egg addiction. when they first appeared a few weeks ago a dozen jumped in my shopping cart. luckily i haven't been to a store with them for a while now. 😛

( ( ( ( k8et ) ) ) )

Those eggs are freakishly sneaky…
watch out if you head to another
store that sells them in the next month ~
They sure have a way of hiding under things
in your cart so that you don't even know
they are there, don't they?! 😉

I have visions of all you photographers lying in various states
of cardiac arrest in parks all over the world after trying to capture the
elusive Easter "buns" on a diet of chocolate eggs and little or no cardio!!!
(is it wrong that I wanna giggle at this?) ; )

Makes me want to giggle, too! 😆