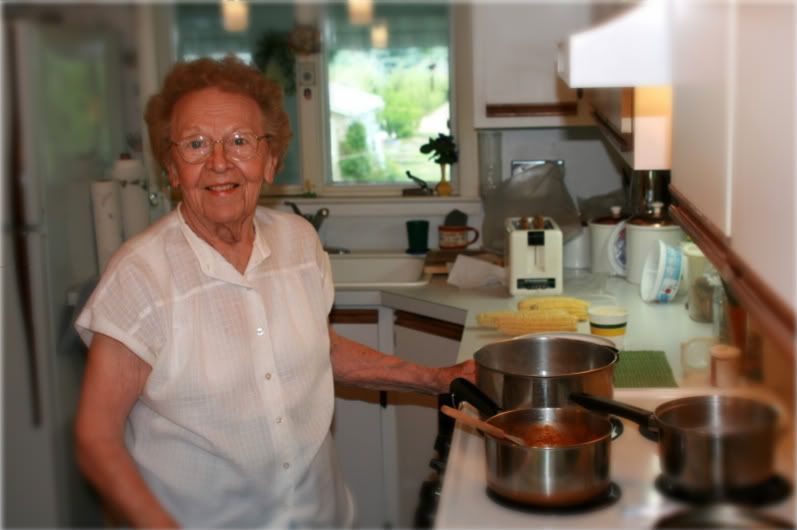 ♥ ♥ ♥ ♥ ♥ ♥ ♥ Huge Love ♥ ♥ ♥ ♥ ♥ ♥ ♥
About 10 miles away from her house, she looks at me with sparkly, mischevious eyes ~
"See that bare field over there"?
I nodded, leaning in earlier today to listen to her closer.
"Soon, I'm going to bring a whole bunch of sunflower seeds and scatter them all over the ground! Won't that be a hoot to watch all the sunflowers growing there all this summer"?!
I responded that I thought that would be amazing. Even more amazing is that my grandma is 91 years old!
She is beautiful. She is loving. She is comfort. She is funny. She is all things good.
We tried out some watermelon gum together today. She made funny faces and thinks it's horrible at first but gets better the longer you chew it.
What a treat that her spirit has never known old age!
She is silly.
She told me that she thinks that her and I are both a little bit nuts. And, that it's a good thing!
The laughter comes easily.
 When she played the piano this morning at her little country church and someone complimented her, she stated that she would rather do that than eat.
She is my hero and she inspires me to maintain a vision of wonderment and to see the magic that is truly around all of us every day no matter where we are.
Oh, and I can't wait to see her secret sunflowers!   How about you?
13 Responses to "♥ ♥ ♥ ♥ ♥ ♥ ♥ Huge Love ♥ ♥ ♥ ♥ ♥ ♥ ♥"
aawwww!!! i love your granny she's so cute! i think she's right you both are a little nuts, and it's a great thing!

hee hee hee! ( ( ( ( stacey ) ) ) ) 😀

ohhh, how sweet. I love this photo of your grandma, could I please have a copy??? i love her and your grandpa and your daddy and you!!!! you're a great family.

( ( ( ( krissica ) ) ) )

I will print out a photo for you!

😀

I totally love the pic of your grandma. And I love your writings about her. Don't you just love the laughter?!? My Mom is 83 and we still laugh like goofy little girls together. I will always, always remember that!

Your blog is great!

Hmm. I typed a comment, but it didn't show up.
Anyhoo…. I love the pic of your grandma. And I love your words about her. (And the thought of the sunflowers is great!). Isn't the laughter great?!? My 83 year old Mom and I laugh like goofy little girls and it's so much fun. I will always, always, always remember that!

( ( ( ( bigsurluvr ) ) ) )

Thank you!! And, I love that you and your mama laugh like goofy little girls!
That's the best! 😀

Grannies RULE!!!!!
I can see the mischief in her eyes!!

( ( ( ( Sarah ) ) ) )

I think I see it, too! 😀

Your photos are fantastic!