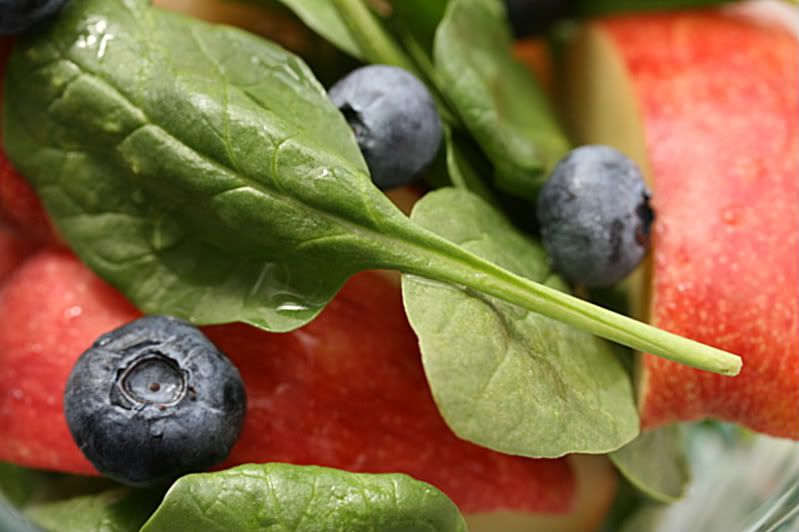 Blend It Up, Baby!
By Bella
Tags: apple, blueberry, breakfast, fruit, green smoothie, healthy, raw, smoothie, spinach, vegan, vegetarian
Category: March 2009
Today started with my new favorite breakfast ~ green smoothies!
I made this one with two big handfuls of baby spinach,
some blueberries and a Fuji apple cut up.  Add some ice (or frozen fruit) and a little bit of water, blend and enjoy!
* * *YUM! * * * 
You can't even taste the spinach but you get
all the nutrients, which totally rocks in my book.
They are green, sweet, healthy and fun ~
Try one!
16 Responses to "Blend It Up, Baby!"
This sounds wonderful ~ can't wait to try one (or two!)
bobbie (from SARK)

( ( ( ( ( ( bobbie ) ) ) ) ) ) Welcome and thanks for peeking and posting! I hope that you love your smoothie! And, if you concoct one that you love, please share the recipe! : )

Aaaaahhhh….you have come over to the RAW side for breakfast!!!
Love the picture!!
Making me a little hungry though…..

Yaaaaaaaay! I added some frozen strawberries to my smoothie yesterday from the batch that you gave to me ~ they added such a delicious flavor to it : )

Sarah, are you into RAW food? I'm getting into it. I'm glad Amy posted this, I'm going to try it!

You are going to branch out from just plain spinach leaves for a snack?!

I'm a vegan and this sounds delicious and healthy, I'm going to make one. nice picture.

Tommica! It's great to see you here! I hope that you love the smoothies : )

it looks good, but i'd rather have it as a salad. toss in some crumbled blue cheese, walnuts and a raspberry pecan dressing. good to go!

That sounds like a yummy lunch!

I like goat cheese with this type of salad rather than the blue cheese. But I agree, this is great in a salad version as well! I also like to add cut up cubes of extra firm tofu (for protein) and then use raspberry vinagerette dressing!!! YUM!

hey Kris…I'm mostly raw and doing a juice feast April 1st….love yer spinach snack!
(Staceys salad sounds YUMMY!) : )

You can also add Mori-Nu Tofu (great for fruit smoothies) to this for PROTEIN with your greens!

I'm going to look for this tofu soon and try it! What a great idea ~ being hypoglycemic, protein is great for me!
Thanks, Kris

Throw in a chunk of frozen pineapple and a little chunk of fresh ginger. Yum!

Yummmmmm, I'm going to try that!