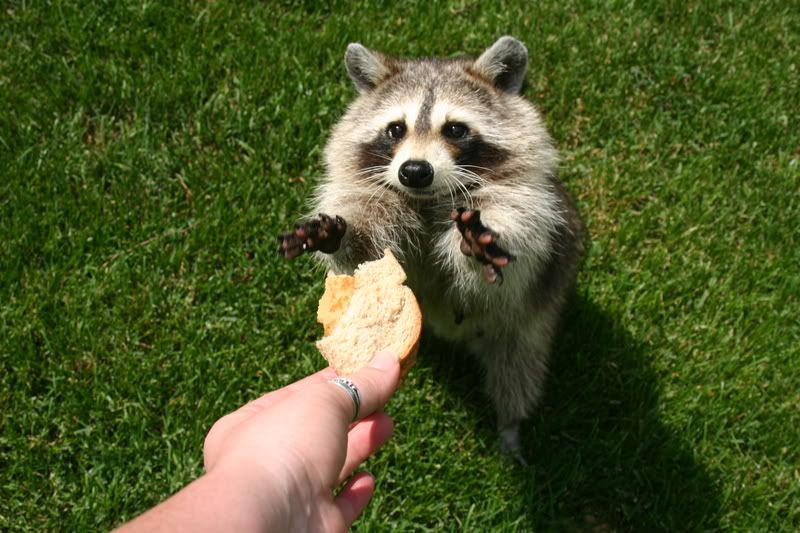 Peanut butter sammies are best when shared ~
Ahhhhhh, I couldn't resist posting a pic of this sweetheart tonight!  I was thinking about her as I ate my peanut butter and strawberry jelly sammie.  BTW ~ the yummy jelly was made by my uber cute 91 year old grandma and I'm excited that this summer we are going to make it together so that I can learn how!
For those of you who don't know about the raccoons, find yourself a comfy spot and I'll tell you how it all began ~
About 10 years ago, a mama raccoon was killed by a car in front of my mom's house.  Her 3 precious babies wandered up my mom's porch and peeked in.  (They sure picked the right house!)  My mom took care of them and now, 10 years and multiple raccoon generations later, we have had some fun times with them!
She no longer feeds them enough to sustain them so they forage on their own.  Miraculously, the ingenious little furry friends have never gotten into her garbage or created too much mayhem!  On occasion one scurried in the house but was easily shuffled back out!  The majority of the raccoons aren't that bold and mostly hang out at the clearing of the woods enjoying cat food kernels and the occasional peanut butter sandwich.
I am always enthralled by them and I adore photographing those fluffy love~muffins!
11 Responses to "Peanut butter sammies are best when shared ~"
This photo AND it's "sub-title" are SOOOOO frickin' cute! This little raccoonchin reminds me of Cargo for some reason. Oh, and I'm soo happy that you're learning how to make yummy, home-made jam this summer with your grandma!

Thanks! And I bet she reminds you of Cargosito because of the big, innocent eyes ~ you think?

Oh my….you might have to show me how to make strawbery jam….; )
I love that little face!!! She is such a tiny love~nut!!
Yay for jammy sammies AND Grammies!!!

I would love to make strawberry jam with you after I learn how! Yay for positive friends like you! : )

Fabulous. Is that a collar on him? Ok well nevermind, go on and ship him down.
Or just drive him over, seeing as you and your mom live in Tarpon.

Bella, I do not know if you should trust this Otis Driftwood person. It smacks of an alias, if you ask me. It seems this Otis is trying to lure you to their lair. Be afraid. Just sayin'.

You girls have gotten me giggling!

I bet Otis' lair is FILLED with animals too……:0!!

[…] a Comment » There I was tonight, laying on my belly, holding my breath. Before me stood Lola the racoon with her 4 little puffs of babies. It was the first time that she had brought up the babies for us […]