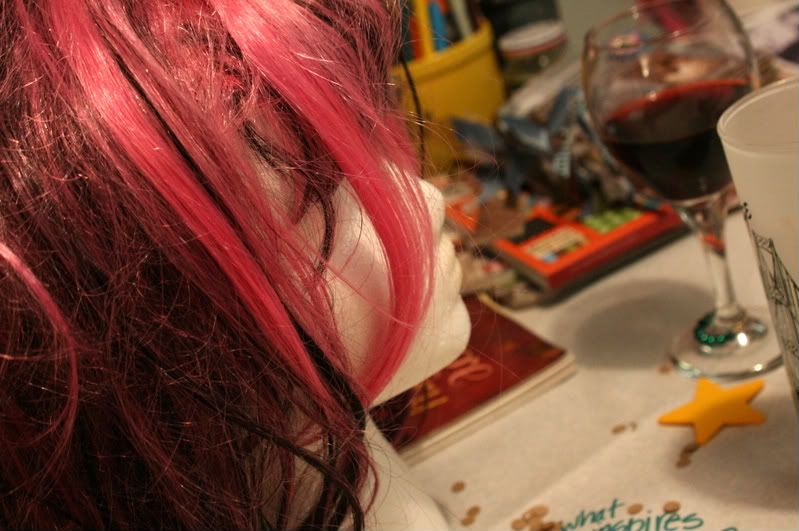 2 wigs, 2 friends, 2 bottles of wine ~
and enough art supplies that we would have a great start to opening our own store!
Last night was spent making altered collage scrapbooks that will be sent out over the next year to friends in a paper bag album round robin exchange!
Paint on our hands,
Giggles,
Creativity flying about,
Little paper punches everywhere ~ on the table, on the floor, in Sarah's tea (!),
Fun,
Fun,
Fun!
If it's been awhile since you've gotten together with a friend to laugh, have a silly time and catch up, then I recommend doing it S O O N! There's nothing quite like it to get your "fun spirit" jumproping!
And, if they live too far away to get together, why not give them a call? ♥
5 Responses to "2 wigs, 2 friends, 2 bottles of wine ~"
Thank you for a MAGICAL time my friend!
ps….THAT is what I call…..Respecting the wig!
Nice picture!!

~*~Hooray for creative magic and fun times with friends! Respecting the wig… you made me laugh! ~*~

AWWWW Amy, I could just cry… you don't even know how much I would have LOVED to been a part of that! I'm glad you girlz had fun, I soooooooo wish I would've been there too. And I have 2 of those PINK wigs on 2 of those white foam heads here at my house too.. Another IRONY…

Next time that you come home, let's wig up and creative art out together, k?!