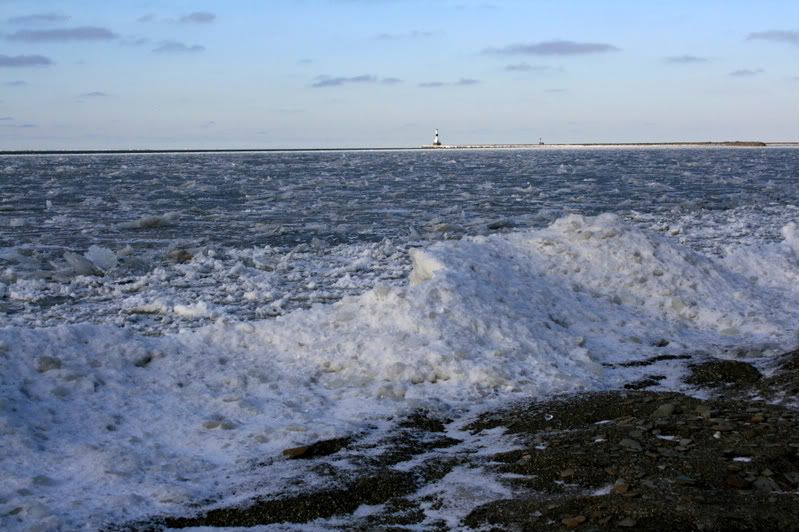 This is not good beach glass collecting weather.
Sometimes you just have to laugh at yourself and laughing at myself is what I've been up to today! That, and driving 3 1/2 hours one way to collect some beach glass. Oh, and did I mention that it was 21 degrees there today?!
In my defense, someone posted a pic of that Great Lake last week and captioned it something like "Look, the first defrost"! In their pic, they failed to post the ummmm, frozen waves and shoreline! They only showed the open water.
So, me being ingenious (!), I decide that I am going to collect a bunch of beach glass today. I'll be the only one there and I'll collect a ton! Never mind that weather.com informs me that 3 1/2 hours away the temperature is only 21 degrees (and feels like 8!). "I'll dress warm"…
And, dress warm I did. I also packed some overnight things thinking that I would collect beach glass today, relax in a hotel room and get up early and collect all day tomorrow, too and then drive home.
Fast forward to me seeing the beach for the first time today along with all of the ice. And, oh yes, there was open water. It was out there about 1/4 mile past the frozen beach!  Do you see it in my pic waaaaaaaaaaaay out there?!  I think their photo of the open water must have been taken from an aerial view!
So, I laughed.
All bundled up, I headed out along the mini icebergs at the shoreline. I did find a bit of beach glass and I got my wish ~ I surely was the only one!
Then, I turned around and drove another 3 1/2 hours home.
6 Responses to "This is not good beach glass collecting weather."
"I'll dress warm." lmao!!!!!
i love you bella~boo!

hee hee hee!
Love you big, Stace!

Now THAT is an adventurous spirit you've got there woman!
I love it!

Adventurous spirit bordering on insanity, you think?! *giggle*

You are so cute. I would have clambered all over that ice with you, girl! Well, right up until my Florida native body couldn't take the cold any longer 😉

LOL, you wouldn't have been able to clamor long, it was soooooooooo cold but we would have had fun, eh?!