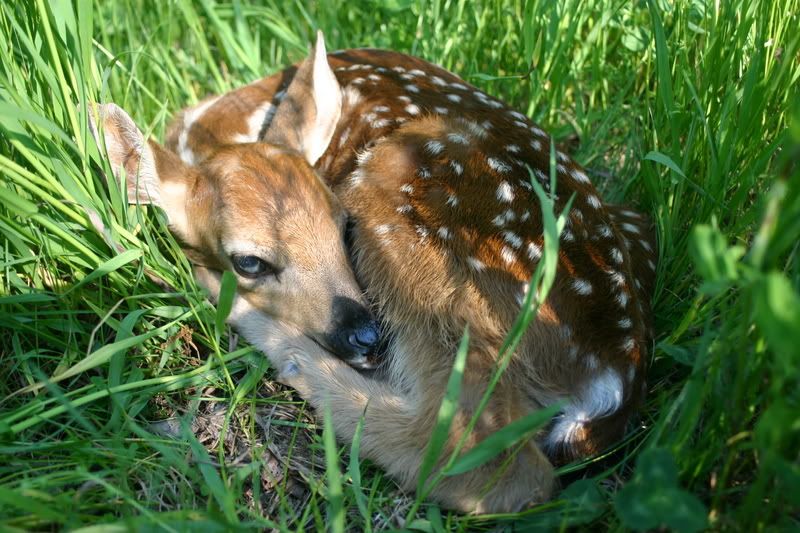 Nature Lover
Out of breath and my dad's voice strange on the phone, I thought something was wrong. When I could finally make out what was being said, he was just uber excited about an eagle that he had just come upon!
We both share a love of nature, exploring new outdoor areas and searching for wildlife amongst the trees and the tall, swaying grasses.
While hiking on his property, I was about to take a step when I looked down and was completely shocked to see this newborn baby fawn! It was exhilarating and I had to fight (hard!) the urge to not touch it. Luckily, I had my camera with me and I was able to take some photos before leaving the little precious baby alone.
Seeing my dad today made me think about nature walks. It's been awhile since I went out on a nature walk and even longer since I explored a new area. So, tomorrow I'm going to explore a new nature area!
How about you? Has it been a long time since you immersed yourself in nature? How about since you explored a new park, hiking trail or beach? Has it been awhile?  Well, join me outside in spirit and let's get some fresh air together!
6 Responses to "Nature Lover"
( ( ( ( ( ( Carrie ) ) ) ) ) )
It was amazing, thanks for peeking!

WOW! Excellent! I would have pocket'd it.

Otis would have pocketed it and then tried to get you to take it later on 😉

hahahahahahahahahahaha!!!