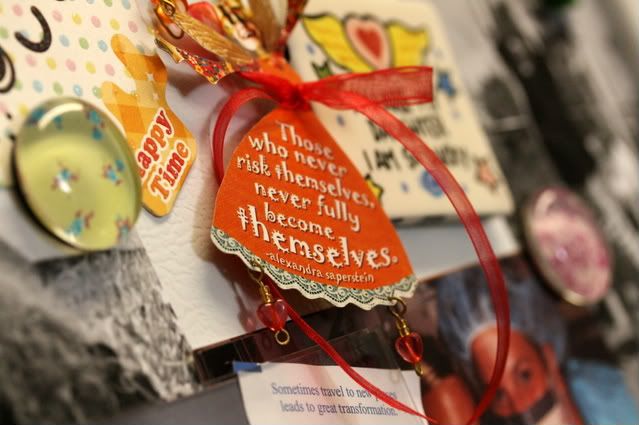 re⋅frig⋅er⋅a⋅tor art
Refrigerator [ri-frij–uh-rey-ter] Art [ahrt] – [noun]
Illustrative or decorative material attached to a box, room, or cabinet in which food, drink, etc., are kept cool by means of ice or mechanical refrigeration.
Odds are you have a refrigerated box versus a refrigerated room in your home.  If you do, in fact, have a refrigerated room, you can decorate that, too, but I definately have some questions for you!  First off, how did the refrigerated room come about?  Do you store snowballs in there?  No, I guess it wouldn't cold enough…Wow, I totally digressed there. (I could have totally made this whole post with questions about the fridge room there for a minute!)
Refrigerator Art ~ do you have some bright and colorful things on your icebox?  It seems like the refrigerator is seen in almost every home by everyone living there pretty much everyday.  So, I think it's a wonderful place to put some inspiring and fun little bits of art, photos and momentos to brighten everyone's day!
I change mine up from time to time but right now there's a drawing of me done by my little niece, fortunes that I wanted to come true or others that just made me laugh, photos of my friends and family, different shaped magnets, brightly colored buttons, stickers and ticket stubs.
Is your fridge fun and already colorful? Well, yaaaaaaaaaay!  Tell me what you like about it and what things on it make you smile  ~
Is your fridge nekkid?!  Or maybe a little blah?  Well, then, I challenge you to go and put something fun on it ~ What are you waiting for?!  Go fun up your fridge! 
And, on a seperate note, I think I may be hiring someone to clean my kitchen floor.  From the looks of the last 2 days, it appears that it will be a full time job!  To continue with the trend of yesterday's post, I dropped a Key Lime yogurt which exploded all over the floor to be followed by breaking another vintage item, a cute frosted drinking glass.  But, I decided not photograph them and post breakage again today!
* Happy Day Today, Everyone *
4 Responses to "re⋅frig⋅er⋅a⋅tor art"
I accept your challenge to "fun up" my fridge!
I challenge YOU….NOT to drop anything on your kitchen floor
for TWENTY FOUR HOURS!!

LOL!!!!

I accept your challenge and will try my hardest not to drop anything between now and 8pm tomorrow night (Thank you, God that I am working 12 1/2 hours tomorrow…that should make my odds better!)

***edited to add that I made it 24 hours without breaking anything!*** Scooting off to bed before my nimble fingers let something fall to the floor tonight!

i didn't see my pic on fridge!

love you bella boo, and i love this blog, it' s so you!

LOL, you goof! You are on my fridge! And, thanks for peeping out my blog! Love you ~