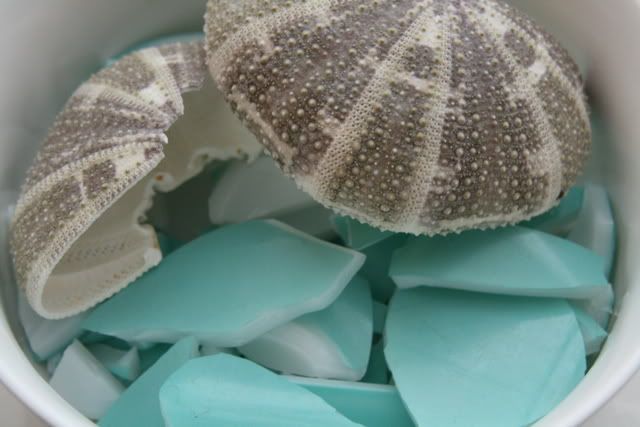 Breakable
When I got up this morning, I broke one of my favorite seashells that I picked up the last time I was in Ocean Beach, Cali.
I proceeded to waltz into the kitchen and gracefully send one of my vintage aqua Pyrex dishes careening to the floor.  I believe that it shattered into no less than 2 billion pieces, many of them almost microscopic shards.
I have found not to underestimate the power of their miniscule size as I have been stabbed in the foot with the sharp vintage remnants multiple times today!  *ouch*  Well, on the upside, it looks like I now have some expensive (!) yet really cool mosaic pieces to create something with that will perfectly match my kitchen ~
Nothing to do but to listen to: 
Ingrid Michaelson~Breakable
  (as it serendipitously (Is that a real word?!) came on during all of this)
and photograph the broken results ~
8 Responses to "Breakable"
Stunningly beautiful photo!

Stunning photo and illustration of creating something beautiful from the broken pieces. Love you Bella!

I LOVE this photo!

Art is PAIN right?
; )

( ( ( ( ( ( Kris, Carrie & Sarah ) ) ) ) ) ), You Girls Rock, Thank You!

great pic, love you bella!

( ( ( ( ( ( Stace ) ) ) ) ) )
Thanks! Love you, my friend ~

Hahahahahaha. Were you wearing your classy pj's when you bequeathed your lovely belongings with your grace? Another great shot. Love the colors.

I may have been wearing said jammies!
And, thank you, Otis!